Located in Microsoft Azure Datacenters, we manage our own servers using Microsoft technologies. Our servers provides you with the rock solid IT infrastructure that you need to succeed. You can feel confident that when you purchase services from us, you are buying directly from the source.
Servers
Our servers are mission-specific, industrial grade machines designed to the toughest industry specifications. They are never overloaded and are monitored 24/7 to ensure that they perform smoothly. Every server is built to meet our extremely high expectations, and we use only name brand components such as SDD hard drives, Xeon Processors, ECC SDRAM and more. We never sacrifice quality on our hardware, even if it means sacrificing profit. Our typical server configurations are as follows:
Dedicated Cloud Servers
Intel Xeon Processors with Guaranteed 2.3 GHz (faster Cores)
48 GB RAM
SSD Storage with faster Input/Output Speeds
Microsoft Windows Server 2019 Datacenter Edition
40 Gbps Public and Private Network Uplinks
Azure Network Firewall
24/7 Advanced Network Monitoring
24/7 Web Server Monitoring
24/7 SQL Server Monitoring
24/7 Mail Server Monitoring
Servers Location: South Central - United States
Data Center Architecture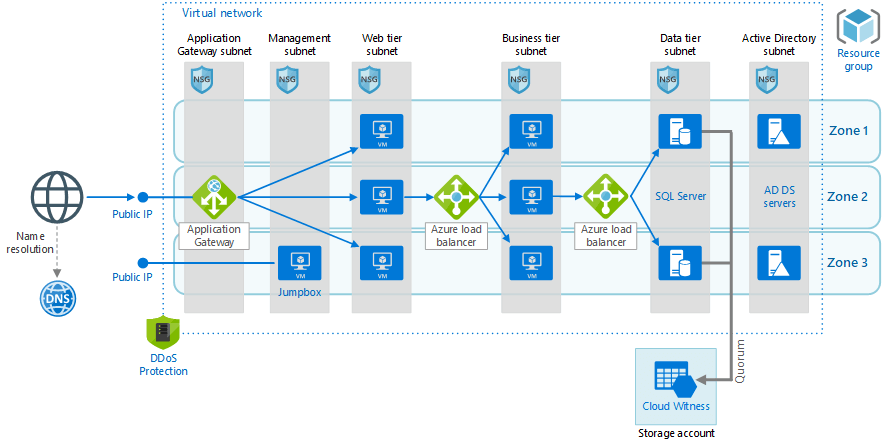 Security
What sets Negox! Security Apart from other Hosting Companies? Negox! uses different state-of-the-art security systems to ensure our services is reliable and protected against hackers at the times for your hosting package.
Infrastructure Security
Microsoft Azure runs in datacenters managed and operated by Microsoft. These geographically dispersed datacenters comply with key industry standards, such as ISO/IEC 27001:2013 and NIST SP 800-53, for security and reliability. The datacenters are managed, monitored, and administered by Microsoft operations staff. The operations staff has years of experience in delivering the world's largest online services with 24 x 7 continuity.
Physical Security
Microsoft designs, builds, and operates datacenters in a way that strictly controls physical access to the areas where your data is stored. Microsoft understands the importance of protecting your data, and is committed to helping secure the datacenters that contain your data. We have an entire division at Microsoft devoted to designing, building, and operating the physical facilities supporting Azure. This team is invested in maintaining state-of-the-art physical security.
Monitoring
Azure reviews and updates configuration settings and baseline configurations of hardware, software, and network devices annually. Changes are developed, tested, and approved prior to entering the production environment from a development and/or test environment. The baseline configurations that are required for Azure-based services are reviewed by the Azure security and compliance team and by service teams.
Network
The network architecture of an Azure cluster within a datacenter consists of the following devices: Routers (datacenter, access router, and border leaf routers), Switches (aggregation and top-of-rack switches), Digi CMs, Power distribution units
Network Architecture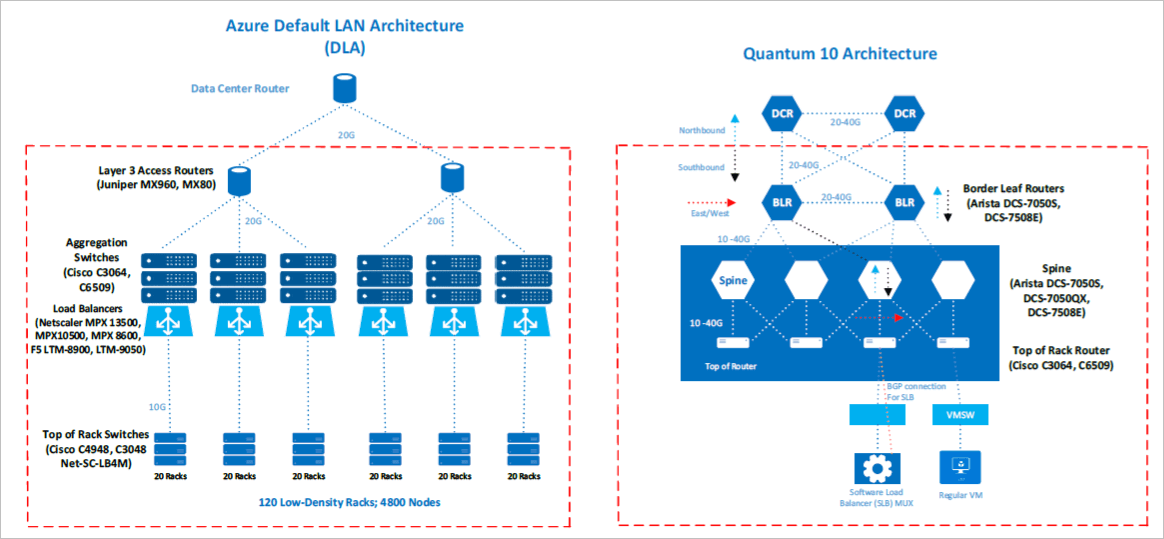 Network Location